The Nominating Committee – Barbara Gilday, Claire Lending, Jeff Copeland, and Ann Lackland – are presenting three candidates for positions on the BUF Board of Trustees. Voting will be included in the Congregational Meeting next week, May 23. The statements and videos of the candidates follow:
Alex Gilman
About me…
I was born on the frozen shores of the Baltic Sea, behind the Iron Curtain, in what is currently the Republic of Latvia. Life was not very lavish. We lived on a homestead, and raised our own food, in isolation from the outside world.
After the collapse of the Soviet Union, at the age of 6, my family and I immigrated to Israel. Life was pretty good, but my parents didn't want my brother and I to serve in the Israel Defense Forces, and so we immigrated again, this time to Portland Oregon.
Growing up I was fascinated by computers and nature, and I decided to study Computer Science in college (Please don't ask me to fix your computer, I don't know much about that).
Aside from IT work, I have been involved with the Pacific Green Party of Oregon. In 2012 the Green Party candidate for Secretary of State, who was also my good friend, asked me to join him for a month long bicycle ride around Oregon. I joined him, and discovered my love for bicycle touring, that is, extended travel by bicycle. It became a big part of my life. Couple years later I went on a 9 month long bike tour from Portland to Southern Mexico. Along the way I had countless unique experiences, met wonderful people and saw beautiful scenery. This is probably my proudest achievement to day.
Random facts about me: I am 6'5", I had dreadlocks for 8 years, I keep cockroaches as pets, I spin poi.
History with UU
I moved to Bellingham and didn't know anyone. That is why I came to BUF 3 years ago in search of community and a sense of belonging. I quickly became involved with the Men's Group, 'Dinners with Friends' program, and even joined the choir.
What I bring to the Board
I bring to the Board my IT skills, my unique perspective as an immigrant, and a millennial.
---
Drew Lenore Betz
Drew Lenore Betz has been a member of BUF since 2001 when she moved from Olympia with her husband Michael.
Michael and Drew were members of the Olympia UU Congregation for fourteen years before moving to Bellingham and joining BUF upon their arrival. Drew has been involved in a number of different groups and activities at BUF including Religious Education, Chalice Circles, Worship Committee, Stewardship Committee, BUF Quuilters and the New Chalice Book Group. She has most recently been involved with reading stories on Sundays and Wednesday evenings via Zoom.
Drew was pleased to be part of the Ministerial Evaluation Team that met over the Winter. Drew is a Professor Emerita from Washington State University where she worked in the Youth and Family Extension world for 25 years and served as the Director of the Whatcom County Extension Office for 8 years. She enjoyed teaching facilitation skills to leaders across the state and promoting programs that built healthy families. She and Mike are enjoying retirement and helping care for their two year old granddaughter, Tora. Drew continues her passion for fiber arts, both quilting and knitting and is actively engaged with the Pacific NW Quilt and Fiber Art Museum. Mike and Drew are committed members of the Eliot Institute community and have attend all but one Winter Eliot since 1999 and now attend Creative Arts Eliot where Drew has enjoyed teaching a workshop about making small art quilts.
Drew has focused her community work on the issue of homelessness and families and serves on the Lydia Place Board of Directors. She is in her fifth term on that board and is very pleased to continue the work that was started in 1989. Two of the founding mothers were members of BUF and Drew has enjoyed continuing that legacy.
---
Daria Haynes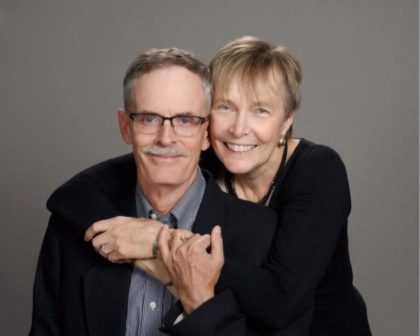 I moved to Bellingham from the Seattle area in 2016 with my husband, Rod. We have attended BUF since our arrival here. We live in the Geneva neighborhood and have four adult children between us. We also have a 6 year old mixed lab named Bentley, who keeps us immensely entertained.
I grew up in Florida, New York, a farming village about 60 miles north of NYC. The area was settled primarily by Polish Catholic immigrants (including 2 of my great grandparents) in the late 19th century. I attended Catholic Church as a child and young adult, but stopped attending church many years ago.
Rod was an active member in a Methodist Church when we met in 2013, but he grew up in a Unitarian Church in Rhode Island. I told him at the outset that I had no interest in the Methodist Church, but would consider a UU Church. So here we are.
I love to hike, kayak, garden and read and am a life-long Beatles fan. I was an avid cyclist for many years and rode my bike from Seattle to DC in 2011.
My educational and work background has been in the business world. I have a degree in Accounting from Pace University and an MBA from UCLA. After spending many years in the accounting and finance world, I got into real estate in 1999 and am still immersed in it.
I am looking forward to retirement in the semi-near future and hope to devote the majority of my time to environmental and social issues, which I am passionate about. I believe that a position on the BUF Board will be an excellent place to pursue these passions. I also hope that I will be able to put my business, analytical and managerial skills to good use.